Julia Roberts proves she's a true friend of honor to George Clooney. The 55-year-old actress made a sweet gesture to her 61-year-old Oceans Eve co-star by wearing a gown containing framed photos of Clooney for the Kennedy Center Honors in Washington D.C. on Dec. 4. The memorable gown is designed by Jeremy Scott for Moschino including snapshots of George from his E.R. days and 2013 W magazine photoshoot.
Julia Roberts's tribute to George Clooney makes fans go Aww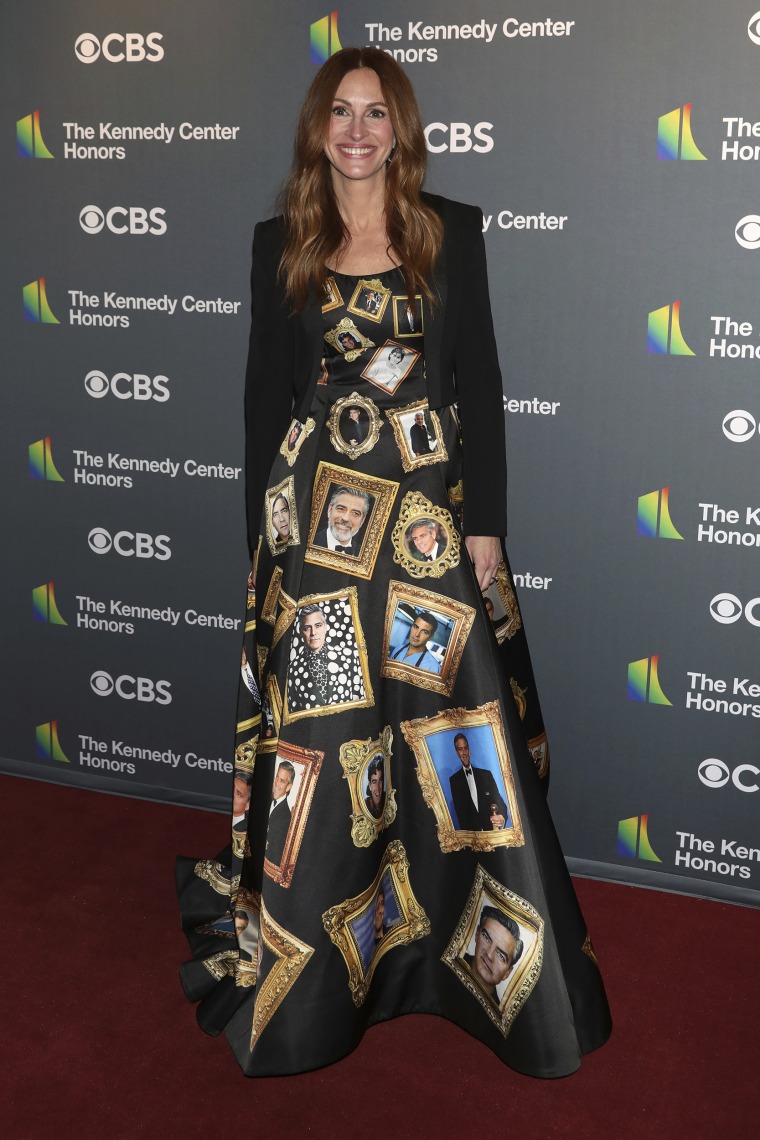 Julia Roberts' tribute to George Clooney made fans go awed but still, they are not that surprised as the Wonder actress have a very sweet bond and starred in many movies together like Ocean's Eleven, Money Monster, and most recently Ticket to Paradise.
Moreover, in a previous October episode of Jimmy Kimmel Live Roberts shared an inner look to her relationship with the Batman and Robin actor by recalling the first time meeting with Clooney in the movie Ocean's Eleven by quoting, "We became instant friends. You know, you just meet people, and sometimes you think, 'I really don't like that person. I have no reason to not like them. I don't like them, and I will never change my mind.' And then there are some people, like my GTC, who you go, 'OK, I'm going to know this person until the end of time. This is a good one.'"
Moreover, Clooney was among the honorees for the 45th annual Kennedy Center Honors so Julia's gesture indeed gives the look of their close bond.
After a White House reception, the honorees were celebrated at an event in the Kennedy Center Opera House, which is going to air on December 28 on CBS. Needless to say, their fans will be over the moon to see them on-screen again.
Also read: People's Choice Awards 2022 Full list of Winners: Top Gun Maverick, Doctor Strange 2, Grey's Anatomy win big knots